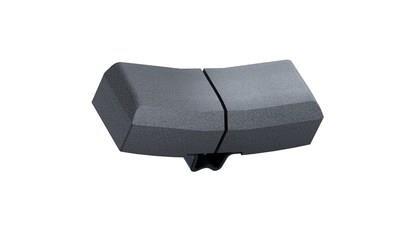 INNOTRANS: Tenneco is to showcase its second generation of LL wagon brake blocks, which are designed to cope with the high thermal loads and noise limits on trans-Alpine routes.
The Jurid 847 LL block features an optimised contact surface shape and uses advanced friction material manufacturing techniques. It has been designed to reduce the rate of wheel wear and likelihood of costly wheel damage, with the aim of reducing total life cycle costs and improving safety.
The brake block fulfils UIC requirements for 2xBg and 2xBgu wagons and is fully exchangeable with P10 cast iron blocks and/or first generation LL blocks.
'Our advanced Jurid 847 LL brake block provides Tenneco customers with a valuable competitive advantage, as rail wheels are the costliest freight wagon service component, so the extension of their operation life cycle has a significant effect on vehicle total LCC', explained Maik Schlauss, Sales & Marketing Director, Rail & Industry. 'Meeting the required homologation levels validates Jurid 847 as a robust evolution of our portfolio and confirms the Jurid brand's reputation for developing leading friction solutions for the rail freight industry.'
Tenneco will also be showing selection of its other rail friction products.