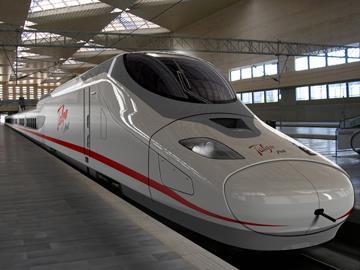 TALGO: Visitors are being invited to Talgo's stand in Hall 4.2, where bookings will be taken for guided tours of the Avril high speed train prototype, which will be displayed on the outdoor tracks.
The Alta Velocidad Rueda Independienta Ligero prototype has been under development for more than three years. Using the established Talgo single-axle articulation design, Avril is intended to deliver higher maximum speeds and significantly higher payloads than existing trains on Spanish high speed services.
According to Talgo, the interior is designed to permit 3+2 seating in second class to deliver yields comparable to those of a low-cost airline; up to 700 seats could be provided in a 200 m long standard-gauge trainset. Maximum speed is advertised as 380 km/h.
A power car and two intermediate trailers will be on show.