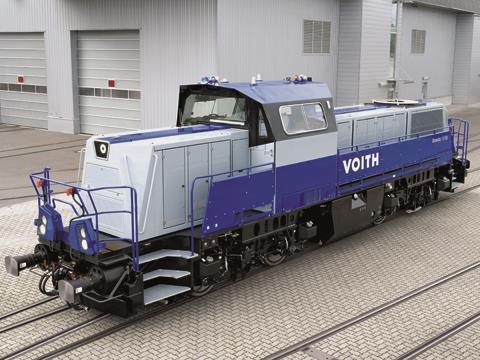 VOITH: 'Connecting Forces - Driving Innovation' will be Voith's slogan at InnoTrans 2016.
On the outdoor tracks Stadler will be showing cars from first EC250 trainset for Swiss Federal Railways, and indoors Voith will be showing one of the noses it is supplying for the trains, incorporating an 'intelligent' coupling system.
Also on show will be Voith's latest SA3 coupler which meets the DIN E 15227 crash standard, supports electro-pneumatic braking and has an additional pneumatic system for automatic decoupling.
Voith's newly-developed S111 turbo gear unit for engine outputs of up to 280 kW and 1 800 Nm is designed to offer stability, robustness and a long service life with easy maintenance. Voith will also be presenting its SE 369 gear box for high speed trains, which is made of aluminium to reduce weight.
An area of the Voith stand will be dedicated to electrical propulsion technology, including an integrated drive control which matches the drive system components to one another to improve safety, energy efficiency and lifespan.
The Voith Service Competence Centre will highlight the breadth of its range of services. The business unit offers locomotive and multiple-unit maintenance and repair, as well as vehicle repainting and bogie overhauls. A growing range of engineering services can also be provided, with recent projects including the development of bodies for track machines, while the OPRA integrated life-cycle management tool can support predictive maintenance to improve availability, reliability and safety.