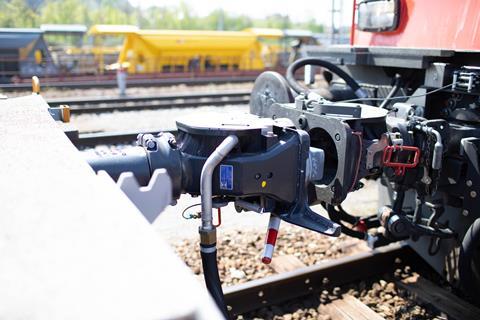 INNOTRANS: The latest episode of the InnoTrans podcast was released on May 11, with Cornelius Weitzmann, CEO Mobility at Voith Turbo, discussing the importance of digital automatic couplers in ensuring the competitveness of rail transport.
'Rail is the most efficient and sustainable way to realise medium and long-distance transport in the future', said Weitzmann, who is due to become CEO of Voith Turbo on June 1. 'Our digitalised, automatic CargoFlex freight couplings lay the groundwork for making rail freight even more competitive and for strengthening its market position.'
CargoFlex is one of four coupler designs being trialled as part of an initiative launched by DB, ÖBB and SBB. Backed by companies from across the rail freight sector, this is targeting the EU-wide deployment of a digital automatic coupler by 2030.
According to Weitzmann, CargoFlex can be fitted with no changes to the wagon structure and has been designed for modular upgrading to permit automatic uncoupling if required.
The next episode of the InnoTrans podcast will be released by trade fair organiser Messe Berlin on June 8, with the guest being Regina Barringer, General Manager of Cummins.
Railway Gazette is the only official international media partner for InnoTrans, the largest railway industry exhibition in the world. The next InnoTrans will take place in Berlin on September 20-23 2022.
Websites
We are not responsible for the content of external sites