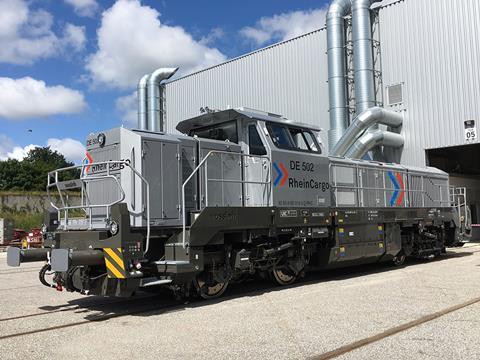 VOSSLOH LOCOMOTIVES: An 'advanced' version of the Type DE18 four-axle diesel locomotive and an example of the three-axle Type G6 locomotive will be displayed by Vossloh Locomotives on the outdoor tracks at InnoTrans 2018.
Vossloh expects to obtain approval during 2019 for the DE18 to use the KVB and TVM train protection systems to operate on high speed lines in France.
The DE18 complies with EU Stage IIIB emissions regulations, and planned developments include a hybrid version which would combine a 1·8 MW diesel engine with a 150 kWh battery pack. Testing of the hybrid version is planned for 2019, with commercial availability from 2020.
In the meantime, a virtual driver's cab will enable InnoTrans visitors to sit at a real driving desk and 'drive' the locomotive along a simulated route.