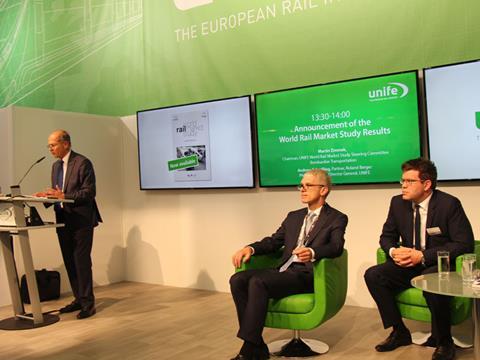 INTERNATIONAL: The global market for rail products and services is set to reach €185bn a year by 2021, according to the sixth World Rail Market Study, launched at InnoTrans 2016 on September 20.
Compiled by Roland Berger for the European railway industry association UNIFE, the study found that the market has been growing by around 3% per year to reach an estimated total of €159bn in 2015. Future growth is projected at around 2.6% per annum over the next six years.
Introducing the study findings, Roland Berger consultant Andreas Schwilling said all regions and market segments were showing growth, albeit at different rates. It was not a question of growth in developing markets being offset by declines elsewhere; in fact he said western Europe was expected to see above-average growth in the coming years.
Over the next five years, Asia-Pacific will continue to account for the biggest portion of the market by value (32%), followed by Western Europe (26%). Western Europe leads in the growth stakes with 3.1%, ahead of Africa/Middle East with 3%. Growth in the Asia Pacific market is predicted to average 2.6%, with Russia/CIS lowest at just 0.9%.
Among the key drivers for market growth were strong investment in metros as a reflection of urbanisation and the outsourcing of maintenance services formerly undertaken in-house by railway operators.
However, the study reported a notable drop in the proportion of the global market that was accessible to international suppliers through open competitive tendering, from 68% to around 63%. While some markets were open, elsewhere the playing field is far from level. According to one industry insider, in the past few years major suppliers have been prevented from bidding to supply rolling stock for Chinese metros, even through joint ventures which previously supported the evolution of that country's domestic metro capabilities.
Asked whether growth rates in previous years reflected early predictions, Schwilling said that the headline figure had tended to be conservative, with actual growth rates higher than predicted. The only exception had been 2012, which reflected external economic impacts on the global market.
The World Rail Market Study is published for UNIFE by Eurailpress and can be ordered from www.railwaygazette.com. For more details see our article in the September issue of Railway Gazette International.