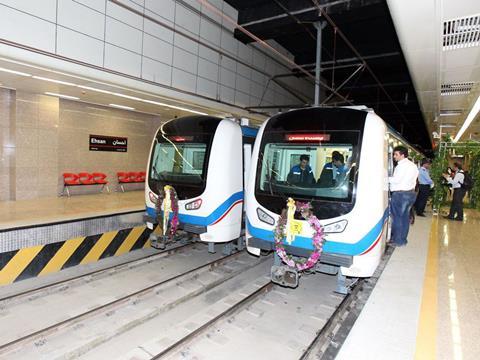 IRAN: To cope with rising road congestion, air pollution and the need for urban mobility, Iranian cities are expected to call tenders for at least 4 000 metro cars by 2025, Industry Minister Mohammadreza Nematzadeh told the inaugural Oil Rail Ports conference held in Tehran on May 15-16.
With several cities — including Shiraz, Tabriz and Esfahan — having opened metro networks in the past five years, the supply industry is anticipating a surge in demand as the relaxation international trade restrictions make access to the Iranian market easier.
Having already worked with Chinese supplier CRRC to deliver 135 metro cars for Shiraz Line 1, domestic manufacturer IRICO has now formalised a long-term partnership with South Korean supplier Hyundai Rotem. IRICO was established in 2003 by one of Iran's largest road vehicle manufacturers, and in recent years it has been developing a DMU design for national operator RAI in conjunction with Hyundai Rotem.
Now the two companies have begun producing 120 metro cars for the first stand-alone metro line in the city of Karaj, a satellite town west of Tehran linked to the capital by express suburban Line 5. The first trains for Karaj Line 2 will be rolled out from IRICO's plant at Abhar 'in around 14 months', according to IRICO. The standard gauge trainsets will feature 20 m long cars operating in eight-car formations using a 750 V DC power supply; maximum speed would be 80 km/h.
Meanwhile, expansion in Tehran is attracting considerable attention from international suppliers. A sixth metro line is currently under construction and tracklaying is underway on the Line 1 extension south from the city to Imam Khomeini International Airport. Among the companies examining the market potential is Transmashholding, which is seeking export orders for its Metrowagonmash subsidiary, the largest metro car builder in Russia.