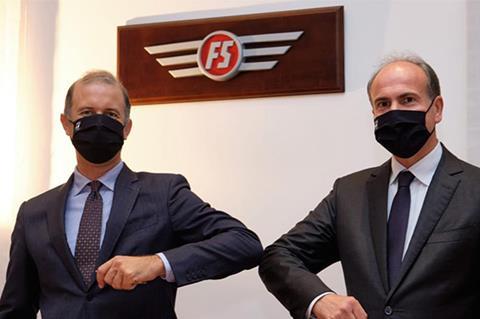 ITALY: National railway FS Group and energy company Snam are to work together to evaluate the technical and economic feasibility of using hydrogen power in the rail sector, and the development of suitable business models.
The companies will experiment with the production, transport, compression, storage, supply and uses of hydrogen, and could undertake joint financing or tendering.
A memorandum of understanding for co-operation was signed by the two companies' CEOs on October 21.
'The agreement signed with Snam confirms the importance, for FS Italiane, of encouraging sustainable mobility, in line with the European Green New Deal', said FS Group CEO Gianfranco Battisti. 'Hydrogen rail transport is a fundamental innovation capable of increasing the environmental sustainability of both freight and passenger transport on the remaining sections of unelectrified railway'.
Snam CEO Marco Alverà said 'we are taking an important step in promoting a hydrogen value chain in Italy starting from sectors that are crucial for decarbonisation such as the transport of people and goods. Thanks to the collaboration between FS Italiane and Snam, we aim to create infrastructure to rapidly convert trains currently powered by diesel to hydrogen, thus gaining technological leadership to be capitalised on at an international level.'
In June this year, Snam and Alstom signed a five-year agreement for the development of hydrogen trains and associated infrastructure. Under the agreement Alstom would manufacture and maintain newly-built or converted hydrogen trains, while Snam would develop infrastructure for hydrogen production, transport and refuelling.