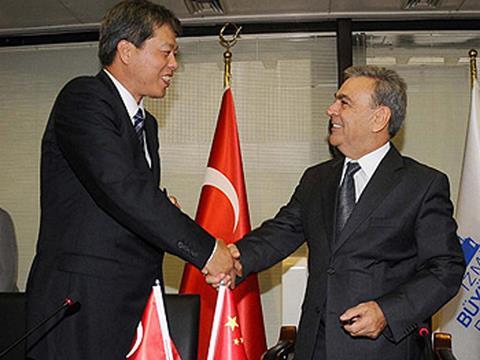 TURKEY: Mayor of Izmir Aziz Kocaoğlu and CSR Zhuzhou Vice-President Fu Jianguo signed a 350m yuan contract on October 28 covering the supply of eight four-car trainsets for the Izmir metro.

The vehicles will be used on the city's expanding metro network. Line 1 is 11·6 km long with 10 stations and is worked by 45 cars configured as three, four or five-car trains. Construction of a 5·2 km six-station western extension to Fahrettin Altay started in May 2007 and further extensions to Bornova Merkez and D E U Hastanesiare are envisaged. An 11 km line will eventually connect Dokuz Eylül University to Line 1 at Üçyol.

The new four-car trains will be technically similar to the existing Adtranz fleet, with a maximum design speed of 80 km/h and capacity for 1 000 passengers. The 32 cars will be 2 650mm wide and 23·6 m long with a welded aluminium body, and fitted with air-conditioning; half will be motor cars with a driver's cab and half will be non-driving motor cars.

CSR Zhuzhou achieved IRIS certification in March this year. Deliveries will start in October 2011 with all vehicles due to be delivered by April 26 2012.