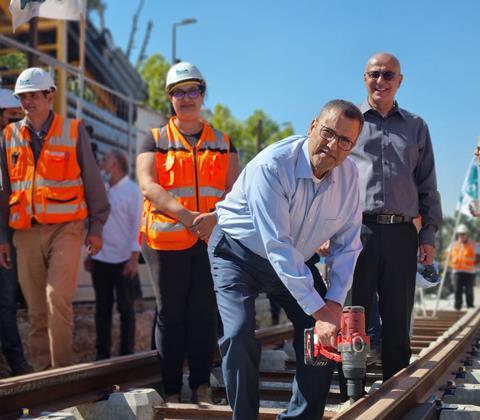 ISRAEL: Ceremonial first rails for the expansion of Jerusalem's light rail Red Line were laid in the presence of Mayor Moshe Lion on August 11.
The line is being extended north to Neve Ya'akov and south from Mount Hertzel to the Hadassah hospital, adding 11 stops. Opening is scheduled for the first half of 2023.
'In the next few days we will mark a decade since the Red Line opened, and I am excited to open a second decade of the revolution of public transport in Jerusalem', said Lion.
Minister of Transport & Road Safety Merav Michaeli said expansion of the Red Line was 'another move in the reordering of metropolitan and national priorities towards a more advanced transport system with reduced use of personal vehicles'.
Construction is also underway on the 22 km Green Line, and procurement has begun for the 20 km Blue Line which is expected to open around 2030.
'There is no doubt that the moves we are making these days in Jerusalem will be an inspiration for other big cities', said Zohar Zoller, head of the Transport Master Plan team.