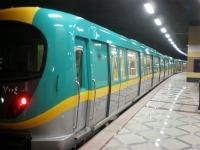 EGYPT: Less than a month after the opening of the first stage of Cairo Line 3, the National Authority for Tunnels has authorised the start of work on the capital's fourth metro route.
On March 19 Minister of Transport Dr Galal Moustafa Mohamed Said signed a loan agreement with the President of the Japan International Co-operation Agency Sadako Ogata releasing an initial tranche of funding to cover development work. JICA is providing ¥32·7bn for Line 4 within a total loan package worth around ¥100bn. The project is to be developed by a consortium of Egyptian and Japanese contractors.
Estimated to cost ¥650bn to build, Line 4 will serve the satellite town of October 6 City southwest of the capital and the new Grand Egyptian Museum being developed close to the pyramids in Giza. The 18 km line with 17 stations would run from October 6 City to El-Malek El-Saleh on Line 1 just south of the city centre, interchanging with Line 2 in Giza and connecting with the proposed tram network in October 6 City.
With Cairo's population expected to increase from 17 million today to 20 million by 2022, the Egyptian government believes that significant investment in public transport will be needed to keep the city functioning. Construction of Line 4 is expected to begin within the next two years, with the first stage opening in 2020. The line is predicted to be carrying 1·35 million passengers/day in its first year of operation, increasing to 2·5 million a day by 2050.