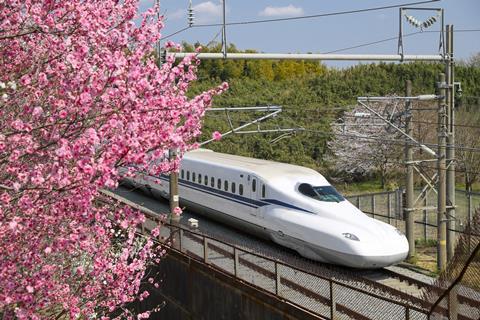 JAPAN: Central Japan Railway has set out plans to introduce GoA2 automatic train operation on the Tokaido Shinkansen by 2028. The system is currently on test and a demonstration for the media is planned for May 10.
The chosen technology will control operation of the train from the moment a driver presses a start button in the cab at the point of departure until the train is brought to a halt at the next station. The system will provide continuous speed control up to the maximum line speed of 285 km/h and will save energy by selecting the most efficient operating speed to meet the schedule.
The ATO system will continuously calculate a train performance curve and indicate to the driver the operating speed to the destination in real time. Should a train be delayed by bad weather or for any other reason, it will recalculate the performance curve and accelerate the train as required to ensure on-time arrival at the next scheduled station.
JR Central will retain drivers onboard ATO-controlled trains to deal with emergencies and provide guidance or assistance should a train need to be evacuated. Door opening and closing will be also controlled and monitored by the driver, rather than by the conductor as is current practice.
Until now, train services on the Tokaido Shinkansen between Tokyo and Shin-Osaka have relied on several generations of automatic train protection with cab signalling, known in Japan as ATC; a digital ATC system was introduced in 2006.