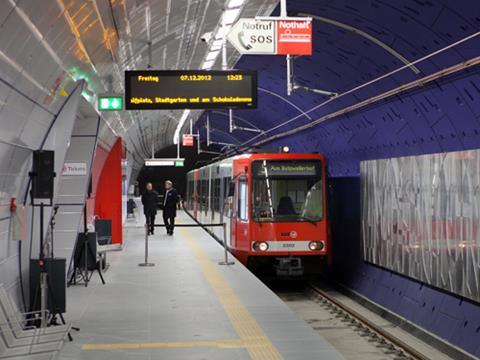 GERMANY: A 525 m underground extension of Köln light rail Line 5 from Dom/Hauptbahnhof to Rathaus opened on December 9. The extension takes light rail services into the heart of the old town, previously only served by buses.
Situated 16 m below the surface, the Rathaus station has a contrasting blue and silver colour scheme, with bright lighting and an aluminium wall sculpture. An inauguration ceremony had been held two days before the start of services, and on December 10 passengers using the new station were given chocolate coins.
Construction of the Nord-Süd Stadtbahn has been underway for eight years, having been delayed by a ground collapse in March 2009. The next stage to Heumarkt is expected to open in December 2013.
The Nord-Süd Stadtbahn project was described in detail in the December 2011 issue of Metro Report International, which subscribers can access in the digital archive.