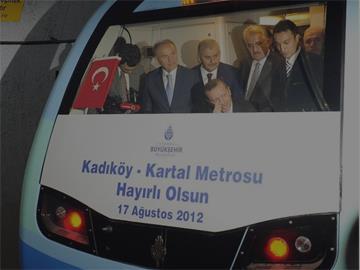 TURKEY: The first metro line on the Asian side of Istanbul was opened by Prime Minister Recep Tayyip Erdogan on August 17. Line M4 runs for 21·7 km from Kadiköy on the Bosporus to Kartal, with 16 stations and an end to end journey time of 32 min.
The line has been built as part of Istanbul Metropolitan Municipality's plans to alleviate growing traffic congestion with initial ridership is predicted to be around 700 000 passengers/day and a capacity of 1 million passengers/day. Travel is half price until Republic Day on October 29.
The line was completed by the AMG consortium of Astaldi, Makyol and Gülermak under a €751m turnkey contract awarded in March 2008. Construction had been started in 2005 under a separate contract awarded to the AnadoluRay Consortium.
SelTrac CBTC signalling, communications and control systems were supplied by Thales under a €36m contract, while ABB provided switchgear and transformers for the 1·5 kV DC overhead electrification. Lucchini and Voestalpine supplied rails, and Pandol fastenings.
In September 2009 CAF was awarded a €139m contract funded by loans from BNP Baribas and Fortis Bank to provide 30 four-car trainsets with wide gangways and a capacity of 1 084 passengers. A subsequent order was placed for a further 24 cars.