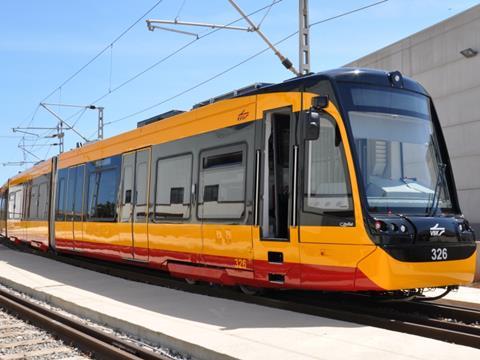 GERMANY: The BOStrab approval certificate for Vossloh's Citylink NET 2012 light rail vehicle was formally handed over to Karlsruhe transport operator VBK at InnoTrans on September 25. According to the manufacturer, this makes it the first low-floor tram-train vehicle to be approved for both BOStrab and EBO.
VBK and AVG ordered an initial build of 25 vehicles in October 2012 for €75m, with an option for up to 50 more. They are being supplied through a partnership between Vossloh Rail Vehicles in Valencia and electrical equipment supplier Vossloh Kiepe in Düsseldorf.
The three-section unidirectional LRVs are 37·2 m long and 2 650 mm wide with capacity for 242 passengers, including 107 seated, and are 80% low-floor. Top speed is 80 km/h. They will operate services on the tram lines in the city, as well as on longer-distance routes S1 and S11 between Hochstetten and Bad Herrenalb and Ittersbach. The first vehicle is due to enter service on October 17.