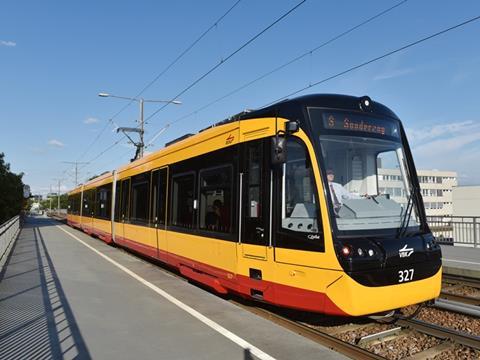 GERMANY: The first two Vossloh Citylink NET 2012 light rail vehicles entered passenger service in Karlsruhe on October 18, with a day of free travel after the ceremonial roll-out the previous day.
Karlsruhe transport operators VBK and AVG ordered an initial build of 25 vehicles in October 2011 for €75m, with an option for up to 50 more. They are being supplied through a partnership between Vossloh Rail Vehicles in Valencia and electrical equipment supplier Vossloh Kiepe in Düsseldorf.
The three-section unidirectional LRVs are 37·2 m long and 2 650 mm wide and are 80% low-floor. So far four have arrived in Karlsruhe.
The BOStrab approval certificate for the vehicle was formally handed over to VBK at InnoTrans on September 25, making it the first low-floor tram-train vehicle to be approved for both BOStrab and EBO, according to Vossloh.