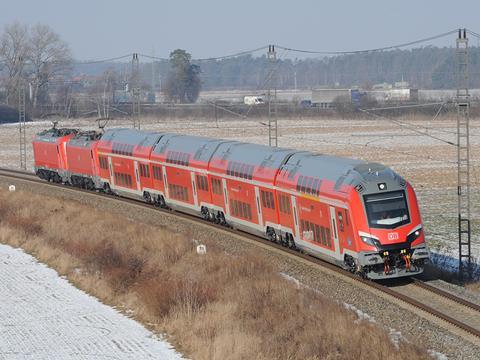 GERMANY: The first of six double-deck push-pull trainsets being built by Škoda Transportation for Deutsche Bahn is undergoing trials at the Velim test circuit in the Czech Republic. Entry into service is not now expected before December 2017.
The trainset is initially formed of four coaches, although it will operate in six-car formation when in regular use.
Intermediate coaches 70 80 26-94 001-3, 002-1 and 026-0 (DBpz) plus driving trailer 70 80 86-94 002-8 (DABpbzf) are being powered by one of three DB Class 102 electric locos (001-003) which are currently also on test at the site.
In August 2013 DB Regio awarded a contract for Škoda Transportation to supply six Type 109E3 locomotives rated at 6·4 MW, along with six six-car sets of double-deck coaches. The push-pull trainsets with 676 seats are intended to operate at up to 189 km/h on DB Regio's NIM Express regional services on the Nürnberg – Ingolstadt – München high speed line. This service forms part of the 12-year Ringzug West/NBS operating contract which began in December 2016.