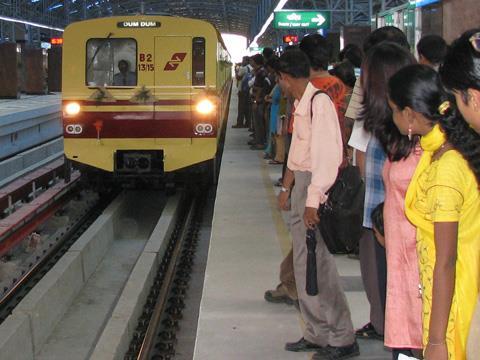 INDIA: Governor of West Bengal Gopal Krishna Gandhi, Finance Minister Pranab Mukherjee and Minister for Railways Mamata Banerjee flagged off the first train on a 5·1 km four-station extension of Kolkata's North-South Line from Tollygunge to Kavi Nazrul on August 22.
Tollygunge station has been renamed Mahanayak Uttam Kumar, and the new stations at Kudghat, Bansdroni, Naktala and Garia Bazar are now known as Netaji Subhas Chandra Bose, Surjya Sen, Geetanjali and Nazrul Islam.

Metro ridership has increased from 425 000 to 475 000 passengers/day since the opening of the new section. A further 3·4 km extension to Shahid Khudiram and New Garia is due to be completed by June 2010.

Most of the new section runs along the centre of the Tolly Nullah drainage channel, and alignment was chosen to avoid the need for land acquisition, in highly congested areas.
The Rs10·3bn project also includes the purchase of seven eight-car trains from Integral Coach Factory in Perambur.

During the inauguration the Minister of Railway announced a number of proposals for easing transport bottlenecks in Kolkata. These include a 17·6 km northern extension to Barrackpore with a branch to Dakshineshwar, and a 21·5 km line to the north-eastern suburb of Barasat. The new lines are likely to go via Noapara, where the maintenance depot is situated on track not currently used by revenue services.

These proposals fall within the remit of the Ministry of Railways, but the government of West Bengal is independently constructing a 14·7 km east-west corridor from Howrah Maidan to Salt Lake via Sealdah. The Rs48·7bn project will interchange with the North-South line at Central station. However, the East-West Line will be built to 1 435 mm gauge rather than the broad gauge used in the existing corridor.