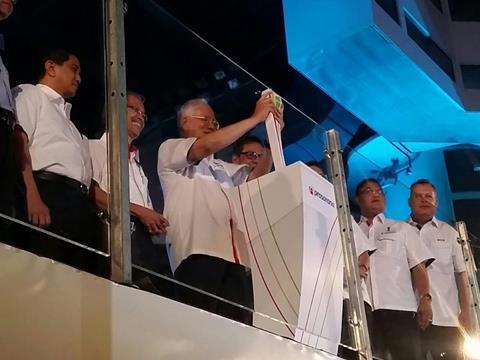 MALAYSIA: Prime Minister Najib Razak officially launched the Kuala Lumpur LRT3 metro construction project on August 24 at Stadium Malawati in Shah Alam.
The mostly elevated 37·7 km LRT3 line would connect the Bandar Utama and Johan Setia districts in the west of the city. One of the 26 stations would be underground, and five would be interchanges with existing or planned lines. Design capacity is 36 720 passengers/h per direction, and a fleet of six-car trainsets is envisaged, running at peak headways of 2 min using CBTC.
Work is due to begin in early 2017 and is expected to be completed by August 31 2020. Project promoter Prasarana has capped the cost at 9bn ringgit. It appointed a MRCB George Kent joint venture as the project delivery partner in September 2015; Systra is undertaking preliminary design work. Following the pre-qualification deadline in May, 96 of the 124 potential bidders for other work packages have been shortlisted.