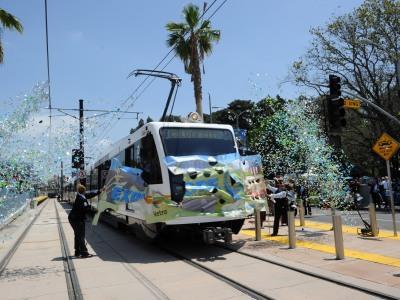 USA: Revenue service on the first phase of Los Angeles' Expo Line light rail route starts at 05.00 on April 30, following an official inauguration on April 27 and a weekend of free rides and public celebrations.
Under construction since 2006, the 13·8 km first phase diverges from the existing Blue line to follow a former Pacific Electric railway alignment as far as Culver City, adding 10 new stops. However, services are initially only running as far as La Cienega/Jefferson, and not serving Culver City or Farmdale where construction is continuing. The 10·6 km second phase from Culver City to Santa Monica will add another seven stops in 2016.
The line is being built by the Exposition Metro Line Construction Authority, and then handed over to Los Angeles MTA to operate. Phase I is costed at $932m, and Phase II at $1·5bn.
Los Angeles Mayor and MTA Chairman Antonio Villaraigosa joined local officials and representatives of both authorities for the official inauguration ceremony on April 27, at Expo Park/USC Station near the University of Southern California. He said the opening of the Expo Line marked 'a critical step towards creating the multi-faceted transit network that Angelenos deserve'.
Expo Line Construction Authority Chairman Zev Yaroslavsky said the long-awaited line was the first rail extension west of Western Avenue 'since the dismantling of the red car system more than half a century ago', adding that it would serve 'one of the most underserved areas of our region'. It brings the city's metro and light rail network to a total length of 140 km.