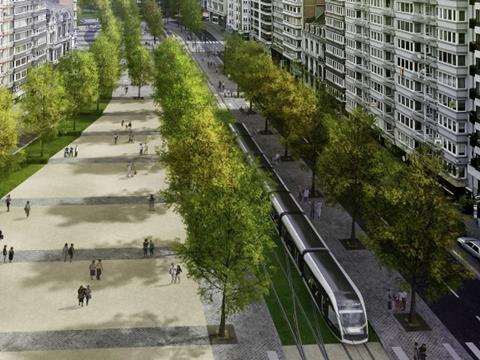 BELGIUM: The Wallonie regional government has announced that its transport agency Société Régionale Wallonne du Transport is to re-tender the DBFM concession to build and maintain the planned Liège light rail line.
In December 2014 SWRT selected the MobiLiège consortium of Alstom, BAM PPP PGGM and DG Infra to finance and build the 12 km line linking Sclessin and Bressoux via the city centre, including a fleet of 19 Citadis 405 trams. The consortium would be responsible for maintaining the infrastructure and rolling stock, although services would be run by regional bus and tram operator TEC.
Work on the project was suspended in March 2015, after the EU statistical office Eurostat objected to the financial structure of the PPP concession. Based on the level of state participation in the DG Infra partnership between GIMV and Belfius, Eurostat ruled that the €380m financing package should be designated as public funding and counted within the Wallonie budget. However, given the state of its finances the regional government was not willing to countenance this requirement.
According to Minister of Transport & Mobility Carlo Di Antonio, after the financing proposals were rejected by Eurostat for a third time, 'several scenarios were analysed in terms of timing, legal risks and financial impact'. The regional government remains committed to the tram project, he insisted, but it has to remain neutral in terms of financing.
Wallonie has therefore decided to abandon the DBFM contract and invite new proposals for a restructured concession. This would lengthen the time allowed for construction, and is expected to delay the completion of the line until at least 2022.
The city of Liège has already spent around €33m on preparatory works, including engineering design, road remodelling and utilities diversions. SWRT is contractually required to pay an indemnity of €1·6m to MobiLiège for cancelling the award, but it remains to be seen whether the consortium will seek additional compensation for its work on the project over the past year.