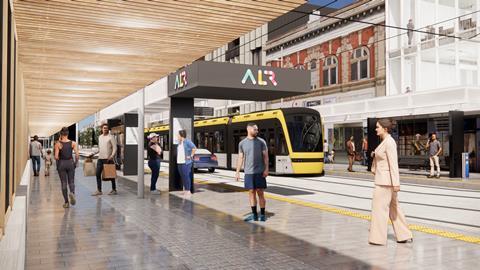 NEW ZEALAND: The government has selected a partially underground light rail line as its preferred option for a public transport corridor between Auckland's central business district, Māngere and the airport.
Announcing the decision on January 28, Minister of Transport Michael Wood said the proposed line would be 'the spine of what will be a fully integrated rapid transport network' in Auckland, with the City Rail Link which is currently under construction as the 'heart'.
The 24 km light rail line would run in bored tunnel from Wynyard Quarter to Mount Roskill, from where it would run at grade alongside the SH20 motorway to the airport.
There would be 18 stops and services every 5 min, with an end-to-end journey time of around 40 min. Ridership is estimated at 40 000 per day in the years following the opening in around 2031, increasing to 65 000 per day by 2051. The line would be integrated with rail and bus hubs, and there would be the potential for extensions to the North Shore and northwest.
Studies had also considered street running trams and a partly underground light metro. The selected light rail line would have a capacity of up to 15 000 passengers/h, which the government said would be four times higher than a dedicated busway, or 'trackless tram' buses which would also require road reconstruction because of the axleload.
Next steps
Detailed planning will now be undertaken to refine the route, finalise the delivery model and secure funding. It is anticipated that this will take three to four years, and construction would then take six to eight more years.
The cost is estimated at NZ$14·6bn, and a combination of funding sources is envisaged including a 'large' national government contribution, local funding and development value capture.
'For more than half a century, Auckland's rapid population growth has not been matched by a corresponding investment in transport infrastructure', said Mayor Phil Goff. 'This investment is the biggest ever made in Auckland's transport infrastructure. It needs to be, to ensure a transport system that is future proofed.'
'While the investment is large, it will be offset by not having to invest similar sums in the future to provide infrastructure for greenfield developments for a sprawling city', Goff added.
Minister for Infrastructure Grant Robertson explained that 'Auckland's population is projected to rise to two million by early next decade. In order to move two million people around our largest city safely and efficiently, we need well-planned and connected infrastructure.
'We are not going to repeat the mistakes of ad hoc planning and a scramble to build infrastructure when it is too late — this rapid transit system is about making sure Auckland is able to flourish as it grows', he added.