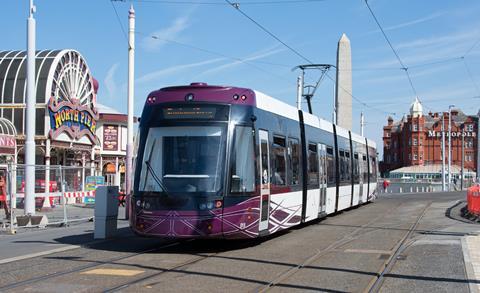 UK: Blackpool's trams are to begin operating once more from July 19, having been suspended since March 29 because of the coronavirus pandemic.
Operator Blackpool Transport said the resumption of services on the 16 km route was intended to 'support the town's economy and provide an important service for commuters and visitors to the resort'.
A spokesman said that as lockdown restrictions ease and more people need to make essential journeys, 'our team are working to put extra safety measures in place and there will be changes to the number of available seats on board, as well as how you board and pay for your ticket'.
The initial timetable will see trams running up to every 20 min, with the last tram being at around 19.30. The trams also operate along the route of the annual illuminations which for this year will run from September 4 to January 3, beyond the usual end date in November, in an effort to boost tourism following the Covid-19 crisis.
The operation of heritage trams aimed at visitor market remains suspended for the time being.
Other tram operators continue to operate reduced services, with Manchester Metrolink reminding passengers of the requirement to wear face coverings and advising them 'please consider all other travel options before public transport, including cycling and walking'. It notes that whilst guidance for social distancing changed from 2 m to '1 m plus' on July 4, 'you should continue to keep 2 m apart from others where you can'. Since June 22 Metrolink has been operating a broadly 10 min frequency across its network.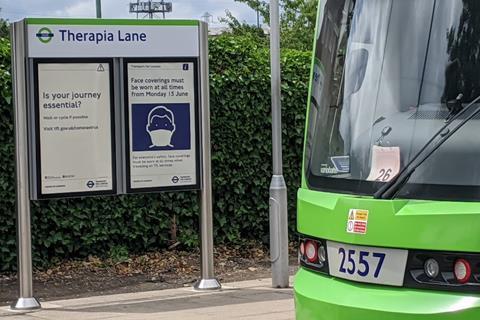 West Midlands Metro is monitoring passenger demand as restrictions are eased 'to ensure that the timetable that we are operating meets the needs of our customers and allows social distancing to be maintained'. Frequencies under its temporary timetable between 06.30 and 20.00 have now been increased from every 15 to 12 min, and it is continuing with an enhanced cleaning regime 'paying careful attention to touch points and surfaces'. Tram drivers are also opening doors automatically at all stops to help reduce surface contact.
In Nottingham the message to restrict travel to essential use only remains in place, with a Sunday timetable operating every day supplemented by extra trams at peak times.
Sheffield Supertram is also retaining advice to only travel 'if your journey is necessary' adding 'trams are here if you need them and play a vital role in allowing people to make necessary journeys'. The operator reports that 'in line with government guidance, we've carried out a risk assessment of the risks to our customers that need to travel with us at this time' and this has been made available on its website.
London Trams is operating to TfL guidelines with a 7 min frequency, while in Edinburgh trams are running every 15 min 'for key workers and essential journeys'.