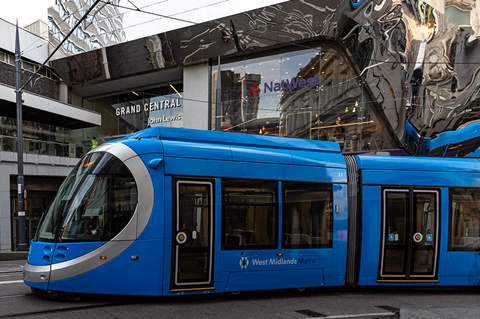 UK: West Midlands Metro suggests that some of its services could be restarted by the end of May, now that work has begin to repair the 21 CAF Urbos 3 trams which were pulled from service on March 19 following the discovery of cracks in body panels on a number of vehicles.
On April 8 West Midlands Metro reported that engineers from across the UK and overseas were working together to replace the cracked body panels, and that while late May is the current target, 'every effort is being made to bring this date forward, including potentially taking trams off-site for the panels to be replaced so that multiple repairs can be carried out at the same time.'
Metro Report International understands that another facility has been prepared away from the West Midlands where work can be carried out and CAF is liaising with the operator over this option.
West Midlands Metro also reports good progress with the delivery and introduction of its new fleet of 21 Urbos 100 trams, which is not affected by the cracking found on the Urbos 3 design. Of the eight Urbos 100 cars now built, seven have been accepted into the fleet after completing a thorough testing and commissioning programme.
Meanwhile, West Midlands Mayor Andy Street has continued to push CAF to accelerate the repair programme whilst investigations into the cause continue. Street has refused to discuss any demands for compensation when challenged by local press, but speaking to Metro Report International on April 4 he confirmed that he had seen the cracks for himself. He reported that he had held a personal meeting with CAF CEO Javier Martínez Ojinaga and General Manager of CAF Rail UK David Lowe, where he had expressed the need for the situation to be resolved quickly.
With the Commonwealth Games starting in Birmingham on July 28, Street has continued to advocate for restoration of a full service by that date to support the large number of spectators expected for the event.
'We are expecting that [date], but I need to be sure that the repairs have been successful, so I will not commit until then; we are confident but we've got to see the progress of the repair', he emphasised to Metro Report International.