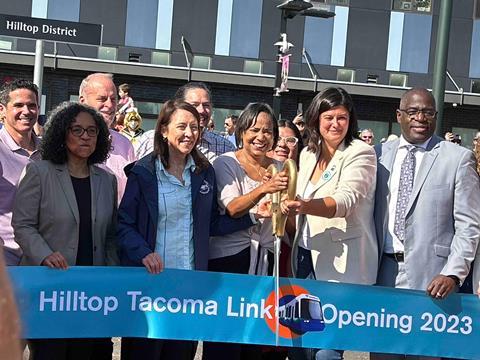 USA: Sound Transit opened the Hilltop Tacoma Link light rail extension on September 16, more than doubling the length of Tacoma's T Line.
The extension runs 3·8 km from the relocated Old City Hall stop (previously known as Theater District, with that name now transferred to the former Commerce St/S 11th St stop) to St Joseph.
Services run at 12 min intervals during the Monday to Saturday peaks and every 20 min off peak and on Sundays.
As part of the launch, 10 000 Orca smart cards were distributed to local residents.
The line was built by Walsh Group, with contractors involved in the project including Jacobs, Hatch and HDR.
Brookville Equipment Corp has supplied five more rail vehicles, doubling the line's fleet. Each of the 70% low-floor Liberty NXT LRVs has 26 seats and a capacity of more than 100 passengers, with space for wheelchairs and mobility devices and for bikes. The depot has been expanded to accommodate the larger fleet.
'The Hilltop extension is a major step toward creating a more connected Tacoma and region as we continue expanding our transit network', said Sound Transit Board Chair Dow Constantine.
CEO Julie Timm said 'this new extension connects residents and visitors to the heart of Tacoma more sustainably and more equitably, from small local businesses and housing to parks, hospitals and museums'.