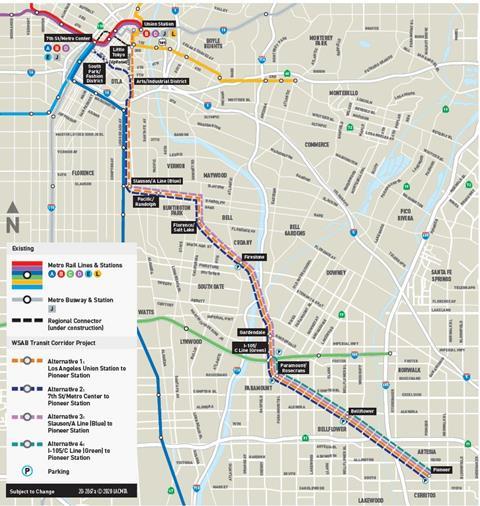 USA: Los Angeles County Metropolitan Transportation Authority has approved the construction of a light rail line to serve the southeastern part of the county.
Expected to cost US$8·5bn, the West Santa Ana Branch would start from Slauson station on the A (formerly Blue) Line to Long Beach and run southeast for 23·8 km to Artesia in Orange County. It would largely follow a former Pacific Electric interurban alignment through the communities of Vernon, Huntington Park, Downey, Paramount and Cerritos.
There would be nine stations, of which five would have park-and-ride facilities. Interchange would be provided at I-105 with the east-west C (Green) Line linking Norwalk and Redondo Beach via LAX.
The branch would include 19·6 km at grade and 4·2 k of elevated alignment, with major bridges over interstate highways 91, 605, 105 and 710, the Los Angeles River, Rio Hondo Channel and San Gabriel River.
Construction is expected to begin in 2023, with completion envisaged around 2033-35. LA Metro is expected to fund US$2bn of the projected cost through the county's 'Measure M' half-cent sales tax, with a similar contribution coming from the state of California. No source has yet been identified for the remaining funds.
Following completion of the first phase, passengers to and from Artesia would have to interchange at Slauson and use A Line services to and from central Los Angeles. However, the LA Metro board ruled on January 27 that the line should eventually be extended to the Arts District, Little Tokyo and Union Station, adding a further 7·3 km. This would provide a second cross-city link to augment the Regional Connector due to open this year between Union Station and 7th Street/Metro Center, but is not expected to be finished before 2043 at the earliest.