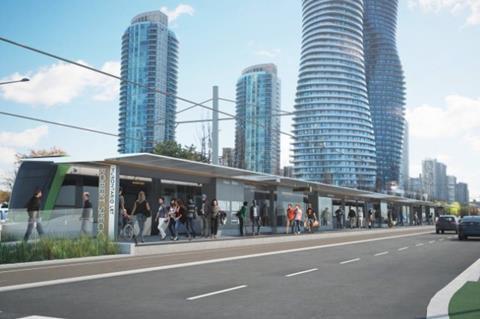 CANADA: Metrolinx and Infrastructure Ontario have appointed Stantec to provide technical advisory services for the Hurontario LRT project.
As lead technical adviser, Stantec will provide design, construction and commissioning oversight through to the planned opening in late 2024. Design review services have already commenced. Stantec will be supported by HDR.
The 18 km light rail line in the Greater Toronto Area will connect Port Credit GO Station in Mississauga with the Gateway Terminal at Steeles Avenue in Brampton, with 19 stops.
It is to be built and operated by the Mobilinx consortium under a C$4·6bn design-build-finance-operate-maintain PPP concession which includes 30 years of operations.
'We're seeing increasing investment in transit projects in Ontario and in other North American markets', said Stantec Vice-President & Regional Business Leader, Transportation, Gregg Cooke on April 9. 'Governments are looking to provide smart and efficient mobility systems to better move growing urban populations, while reducing congestion and travel times.'