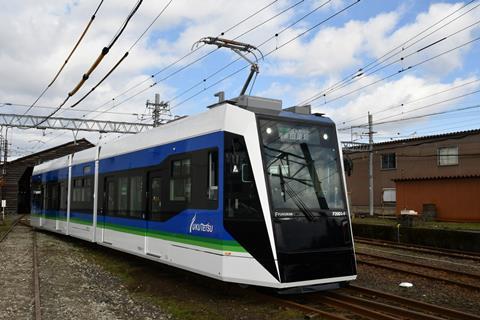 JAPAN: Fukui Railway is taking delivery of three F2000 Fukuramu Liner light rail vehicles ordered from Alna Sharyo.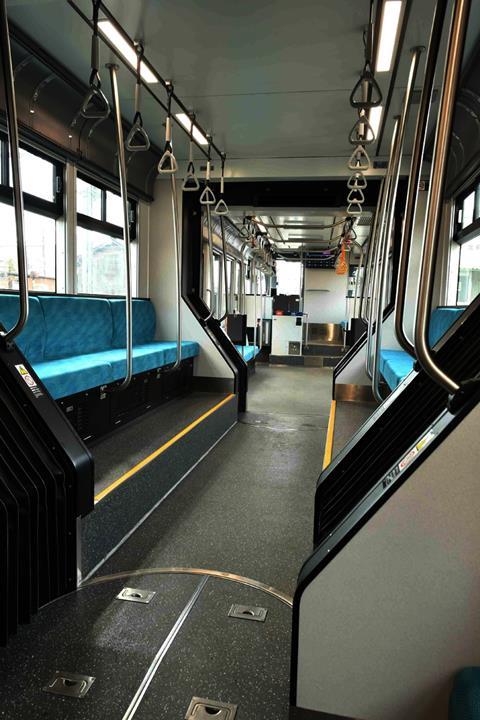 The low-floor LRVs offer 30% lower energy consumption than the operator's existing Class 880 vehicles, while the capacity of 115 passengers is 10% higher
The 1 067 mm gauge, three-section LRV is 21·4 m long, 2 600 mm wide and 3 800 mm high with the pantograph down. It weighs 33 tonnnes.
Operating from 600 V DC overheard electrification, it has three 60 kW three-phase induction motors with VVVF invertors, giving a service speed of 60 km/h and maximum speed of 70 km/h, with acceleration of 2·5 km/h/s and deceleration of 4·4 km/h/s or 5·0 km/h/s in an emergency. It is equipped for regenerative braking.
The cab is designed to give the driver a wide field of vision.
The livery represents blue sky and green fields, and the interior and seats designed by Seiren features seats covers with images of rippling waves.
Fukui Railway was formed through the merger of the Fukubu Electric Railway and Seiho Electric Railway in August 1945 and now operates a 21·5 km line as well as bus services. There has been through running onto the Echizen Railway since February 2016.