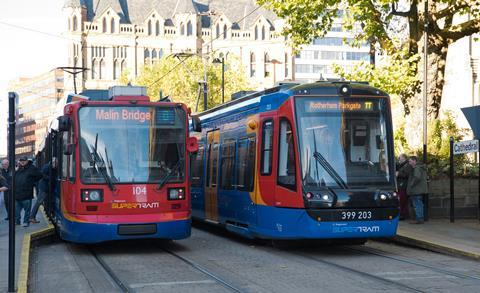 UK: Sheffield's Supertram light rail services are to be operated by South Yorkshire Mayoral Combined Authority through a publicly-owned 'arm's length' company once Stagecoach's current contract ends in March 2024.
SYMCA — formerly the South Yorkshire Passenger Transport Executive — said the change forms part of its wider ambitions to enhance the Supertram system as part of a fully integrated public transport network; it has recently secured a £100m government grant for modernisation of the network.
Sheffield's second-generation tramway opened in 1994-95, initially being run by SYPTE before being taken over by Stagecoach in 1997 under a contract running to 2024. A tram-train extension to Rotherham opened in 2018, and the network carried 11·9 million passengers in 2018-19.
'Supertram has been part of South Yorkshire's fabric for nearly 30 years', said South Yorkshire Mayor Oliver Coppard after the Mayoral Combined Authority Board approved the plan on October 18. 'In the next 30 years, it will play a critical role in helping us reach our net zero goal. Now, I am pleased to be able to say that it will do so as a publicly owned, publicly operated venture.
'Full public control of Supertram is an exciting new chapter for our tram network. It will help us to develop a long-term, integrated approach that fits with our wider plans for buses, rail, walking and cycling across South Yorkshire.'
Stagecoach Supertram told Metro Report International that 'we are proud of the service we have delivered over the past 25 years. Under our contract, we have delivered major improvements for customers including the introduction of the first tram-trains in the country as well as helping to take millions of people off the region's roads onto our greener tram services.
'We will continue working in partnership with SYMCA to deliver the remaining term of our contract to the same high standards.'