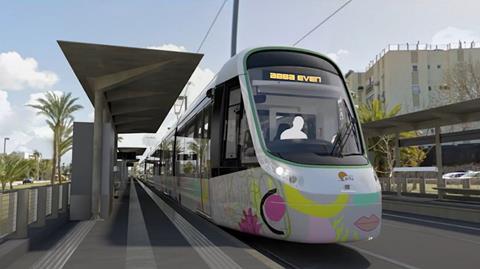 ISRAEL: Tel Aviv urban transport project promoter NTA Metropolitan Mass Transit Systems has formally awarded the Tel Aviv Metropolitan Tramway consortium a €2·6bn contract to design, finance and build the Green Line light rail route and provide 25 years of maintenance.
The consortium of Alstom, local infrastructure contractor Electra and bus operator Dan Transportation had been named preferred bidder in February.
Alstom's €858m share of the contract announced on May 17 includes track, electrification, power supplies including its Hesop energy saving system, signalling, communications and 98 Citadis X05 trams.
Electra will manage design and construction of the civil works. Maintenance will be performed by a joint venture of the three consortium members.
Green Line
The north-south Green Line will be 39 km long with 62 stops, including a 4·5 km underground section with four stops.
The two southern branches will start at Agricultural Center and at Moshe Dayan in the city of Rishon LeZion, which is expected to be a major source of traffic, and join at HaNesi'im in Holon to run north through central Tel Aviv as far as Einstein Street, where the line will divide into branches terminating at Herzliya and Neve Sharet.
The opening is planned for 2027 and ridership is predicted to reach 76 million passengers in 2030, with the low-floor trams operating in pairs.
The Citadis X05 trams will be designed and manufactured at Alstom's La Rochelle plant in France, with bogies from Le Creusot, motors from Ornans and passenger information systems from Villeurbanne. Alstom's factory at Fez in Morocco will provide harnesses and electrical cabinets, and the site at Charleroi in Belgium will provide power electronics including a new 1∙5 kV integrated traction and auxiliary converter and the Hesop energy saving system.
'Alstom and our partners Dan Transportation and Electra Ltd believe this project will contribute to the growth of the rail ecosystem in the country and support the creation of hundreds of new jobs', said Eran Cohen, Managing Director of Alstom Israel.
Tel Aviv's Red Line is currently being built by China Railway Construction Co subsidiary CECC, while NTA has selected CAF and Shapir to build the east-west Purple Line.