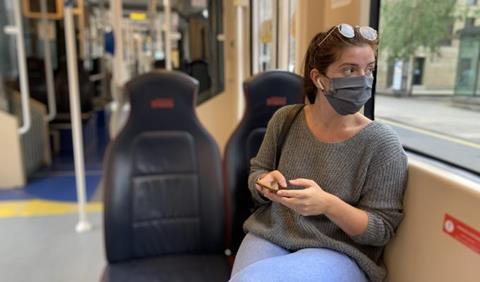 UK: Light rail industry association UK Tram organised a virtual event to enable its members to discuss the measures they had taken in response to the coronavirus pandemic, and to share best practice for post-lockdown communications as passengers begin to return.
'Early observations suggest that the new face covering rules are being followed by the vast majority of customers, and operators have been playing their part by making information and guidance easily accessible for customers', said UK Tram Marketing & Commercial Manager Jamie Swift. 'Some operators have also introduced assistance cards for customers who are exempt from wearing a face covering. These help them to communicate with others if they're challenged, reducing the risk of a misunderstanding.'
Discussions also covered the introduction of more flexible ticket options to better suit changing travel patterns, and the challenges of maintaining social distancing as ridership increases.
'Moving forward, it will be as important as ever to share ideas on the best ways to communicate with the travelling public, and to present a united front as we face the difficult task of balancing assurances that networks are safe with the need for customers to remain cautious', said Swift.
Representatives from the tram operators in Blackpool, Edinburgh, Nottingham, Manchester and Sheffield participated in the discussions. A similar virtual meeting is being planned for July, and people with a marketing, communications or customer service role in the light rail sector are invited to contract UK Tram for further details.