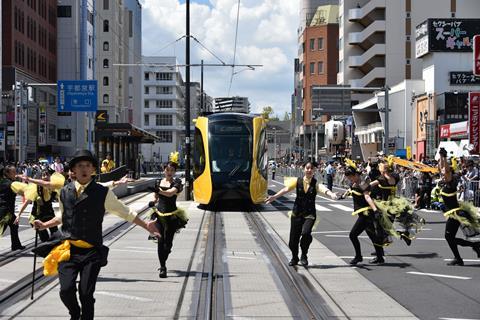 JAPAN: Celebrations on August 26 marked the opening of the Lightline light rail line in the city of Utsunomiya, 100 km north of Tokyo, as Japan's first new-build tram line since the opening of a line in Takaoka in 1948.
The 1 067 mm gauge Lightline starts at Utsunomiya Station East next to the East Japan Railway station and runs for 14·6 km east via Sakushin Gakuin University to the Haga Takanezawa Industrial Park in the neighbouring town of Haga.
The line includes 9·4 km of street running. There are 15 stops in Utsunomiya and four in Haga, with two stops having loops where semi-fast expresses can overtake stopping services.
Construction
The line has been developed by Utsunomiya Light Rail Co, a public-private join venture which is owned by the city of Utsunomiya (40·8%) and town of Haga (10·2%) along with businesses interests and Tobu Railway.
The project has cost ¥68·4bn, with Utsunomiya paying ¥60·3bn and Haga ¥8·1bn.
The first plans for what would become the Lightline were put forward in 1987, with the aim of improving east-west connectivity and addressing traffic congestion; one proposal was for a monorail.
The light rail project was approved by the Ministry of Land, Infrastructure & Transport in September 2016, and the groundbreaking took place on May 28 2018.
Opening was originally scheduled for March 2022, but there were to delays to the completion of the section through road junctions in the Notakaya district.
Trams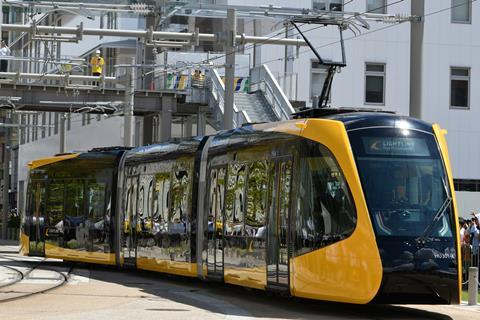 The line is operated using 17 HU300 trams supplied by Niigata Transys as an evolution of the F1000 design it previously supplied to the Fukui Railway.
The Lightline trams were ordered in February 2018 and delivered betwen May 2021 and the end of June 2022.
The three-section 750 V DC bidirectional low-floor vehicles are 29·52 m long and 2 650 mm wide. They have a capacity of 160 passengers, including 50 seated.
The depot is located at the middle of the line, east of Hiraishi stop.
Services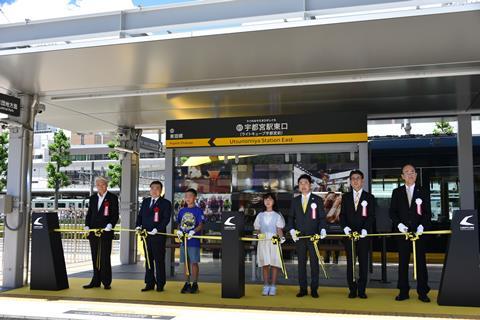 Services operate from 04.00 to midnight, running every 8 min in the peaks and every 12 min off peak.
Trams are initially limited to 40 km/h, giving an end to end journey time of 44 min; there are also short workings which only cover part of the route.
The maximum speed is to be raised to 50 km/h on-street and 70 km/h on the segregated sections of the route from 2024, which will reduce the journey time to 37 min.
Extension
A 5 km extension through the urban area on the west side of the JR East station is planned to open around 2030.
This would serve the Takaragi district and a conference centre and hotel in Komanu. It would also make the Oya Temple and water gardens more accessible to visitors as part of local ambitions to put all city facilities within easy reach of public transport.