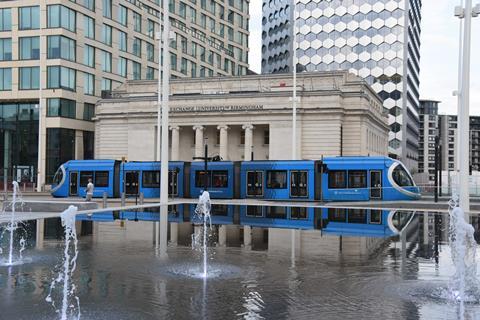 UK: West Midlands Metro announced on November 12 that services would be suspended for at least four weeks from the following day because of cracking on its CAF Urbos 3 trams.
The manufacturer discovered cracks during maintenance checks in June, and services were suspended from June 11 to June 15 while inspections and temporary repairs were carried out. It has now been determined that more extensive and permanent repairs are required, and the operator said that 'to ensure the future safety of our customers and colleagues', it had taken the 'difficult decision' to suspend all services.
West Midlands Metro said 'we are continuing to work alongside the tram manufacturer to understand the issues and carry out the repairs as quickly as possible. At this time we are unable to confirm when services will resume but we expect it will take at least four weeks.'
CAF told Metro Report International it would not be commenting until it had all the necessary information.
The announcement came a few days after services on the Inner West light rail line in Sydney were suspended when routine inspections discovered cracks on all 12 of its fleet of CAF Urbos 3 trams.
Transport for New South Wales reported cracks in the floor area over the wheelsets were up to 300 mm long and needed to be addressed before they propagated further, which could involve strengthening the vehicles to prevent a recurrence.
TfNSW said it intended to notify the operators of up to 1 000 similar trams around the world, as 'this same design flaw is likely to be a challenge for their systems as well'.