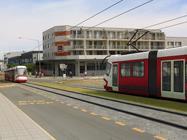 AUSTRALIA: The development of a light rail network in Canberra is included in a parliamentary agreement by which the Green Party's Shane Rattenbury has agreed to support the Labor Party's Katy Gallagher in the formation of a government for the Australian Capital Territory.
The agreement signed on November 2 requires an independent authority to be established to implement the Capital Metro light rail project and develop a city-wide light rail masterplan.
Design studies are to be undertaken for a first line, along with preparatory works and tendering. It is envisaged that the line would be developed and financed through a public-private partnership. The target is to lay the first rails in 2016.
An update released by the ACT government in September estimated the cost of an initial 13 km line between Gungahlin and City at A$614m, or A$276m for a bus option. The alignment would use grassed road median strips, which were intended for possible tram routes when the city was planned.
Welcoming the agreement to go forward with the project, Australasian Railway Association CEO Bryan Nye said light rail would 'improve the connectivity of the city, reduce road congestion and decrease travel times, all in an environmentally-friendly manner'.
The agreement also requires the ACT government to work with the federal government and key stakeholders to plan a high speed line linking Canberra with Sydney, Melbourne and Brisbane. Land for a station is to be safeguarded.