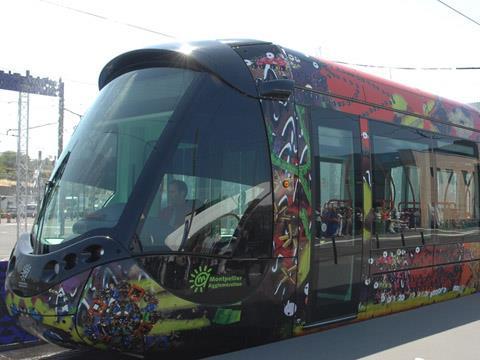 FRANCE: Passengers began using lines 3 and 4 of the Montpellier light rail network on April 7, following an official opening ceremony the day before. Line 3 runs for 19·8 km from Juvignac in the west of the city to Pérols-Etang de l'Or in the southeast, with a branch from Boirargues to Lattes-Centre, its 29 stops serving a total of 90 000 residents.
Described as the first circular route on a new tram network in France, Line 4 runs for 8·4 km on sections of lines 1, 2 and 3 from Saint-Denis to Place Albert 1er, serving 17 stops and expected to carry 14 000 passengers a day.
Rolling stock for the new routes has been supplied by Alstom Transport, with Line 3 operated with a fleet of 19 Citadis cars, each 43 m long. With services running every 7½ min during the peaks, Line 4 has 12 cars each 40 m long.
The new lines have cost a total of €530m, of which €369·4m has been provided by the Greater Montpellier authority and €82·6m by the French government. The Languedoc-Roussillon region has contributed €50m and the département of Hérault a further €28m.
'With these two new lines, Montpellier is making itself more accessible to its inhabitants, especially the mobility-impaired', said Jean-Pierre Moure, President of the Greater Montpellier authority. 'There are also benefits for the environment, with trams that are 90% recyclable and passengers who will consume 10 times less energy than when travelling by car'.
April 7 also saw the extension of Line 1 from Stade de la Mosson to a new interchange with Line 3 at Mosson, and Line 2 diverted to run from Corum to the SNCF station at Saint-Roch via Comédie. Fed by 30 bus routes, the Montpellier tram network now comprises 56 km serving 12 park and ride sites offering a total of 5 000 parking spaces.