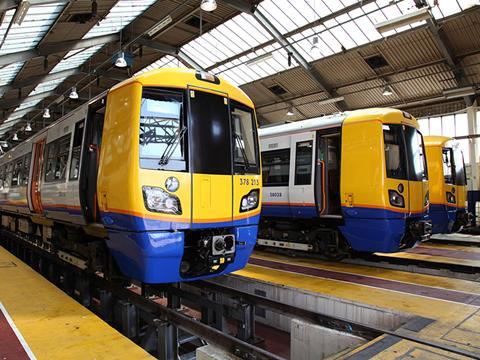 UK: Transport for London has invited expressions of interest in the next concession to operate London Overground inner-suburban passenger services. The current contract held by the London Overground Rail Operations Ltd joint venture of MTR Corp and Arriva expires on November 12 2016.
The new concession is planned to run for seven years and five months, with an option for TfL to extend the contract by two years. It would cover the current London Overground network, as well as services which are due to transfer from the Greater Anglia franchise next month.
Under the operating concession revenue will go to TfL and the operator will receive a fixed payment with performance–based bonuses or reductions. TfL says that the contract 'is also likely to include a profit-sharing mechanism that will trigger at a margin above the bid level of profit.'
Services would initially be operated using mixture of existing electric and diesel multiple-units, until they are partially replaced by a new fleet of 'at least' 45 four-car EMUs which TfL is to procure.
The operator will manage 81 stations as the facility owner and 30 as beneficiary, and would be required to facilitate a programme of improvement works. It will be required to support the planned introduction of electric services on the Gospel Oak – Barking line, as well as service frequency enhancements across all routes and also 'potential service extensions'.
Options in the contract would include 'delivering a transformation in ticket retailing' and managing the operational impact of the construction of High Speed 2.
Requests to participate must be received by 12.00 on May 13. TfL plans to prequalify between three and five bidders, and then select the most economically advantageous offer.