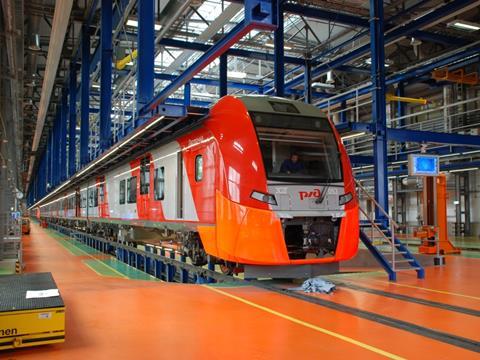 RUSSIA: An agreement to develop a long-distance variant of the successful Lastochka electric multiple-unit family has been reached between Russian Railways and the Urals Locomotive joint venture of Sinara and Siemens.
The accord to draft revised technical specifications was signed during the St Petersburg International Economic Forum by the head of RZD's Federal Passenger Company, FPK, Pyotr Ivanov, Sinara Group Managing Director Mikhail Khodorovsky and Siemens Mobility CEO Jochen Eickholt.
The Ural Locomotives plant in Yekaterinburg is currently assembling suburban variants of the Lastochka, which is a derivative of the Siemens Desiro EMU family; these have been deployed on the Moscow Central Ring as well as services on the North Caucasus Railway around Sochi. FPK is already deploying some 'Lastochka Premium' units on inter-regional routes up to 200 km, but envisages that the long-distance variant would be more suitable for inter-city routes with journey times of around 4 h.
FPK sees growing potential for long-distance daytime services over distances of 300 km to 500 km. It envisages that the EMUs could operate on routes such as Moscow – Orel, Moscow – Kursk, Moscow – Nizhny Novgorod, St Petersburg – Petrozavodsk and Adler – Krasnodar. They could replace older stock on existing daytime trains or help to establish new services on routes where the present traffic pattern is based around a limited number of overnight trains operating over very long distances.
The units have also been proposed for operating feeder routes connecting with the planned Moscow – Kazan high speed line.
With RZD's orders for new rolling stock currently constrained by the availability of finance, the agreement includes a provision for the long-distance Lastochkas to be supplied under a leasing deal.