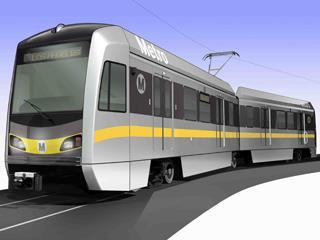 USA: The board of Los Angeles transport agency Metro approved the award of a $299m contract for KinkiSharyo International to supply 78 light rail vehicles on April 30. Four options for a further 28, 39, 21 and 69 LRVs could take the total order to 235 cars worth $890m.
The Metro board voted 8-1 to approve the award of the contract to preferred bidder KinkiSharyo International. Metro believes the US subsidiary of Japanese firm Kinki Sharyo represented the best overall value, although not the lowest price, enjoying advantages in technical compliance, scheduling risk and project management.
Subcontractors would include Ansaldo STS (ATP), Dellner (couplers), INIT (passenger-counting systems), Knorr-Bremse (brakes), Saft (batteries), Toyo Denki USA (traction equipment) and TransTech (pantographs).
Formal award of the contract awaits Federal Transit Administration approval and the resolution of objections from rival bidders CAF USA and Siemens Industry.
An initial 28 LRVs are scheduled to be delivered by 2015, and a total of 62 by May 2016. The new cars are needed for the second phase of the Expo Line, and the Gold Line Foothill and Crenshaw/LAX projects. The optional cars would be delivered by February 2020.