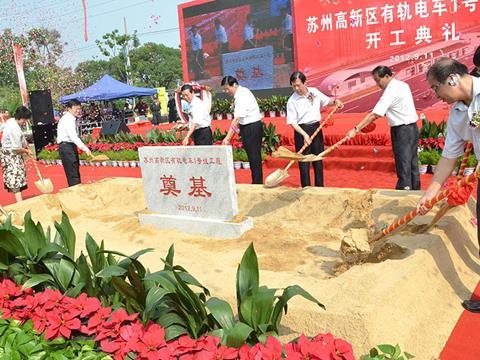 CHINA: CSR Nanjing Puzhen Rolling Stock has won an order to supply 18 low-floor trams for a light rail line which is under construction in the Suzhou National New & Hi-tech Industrial Development Zone.
The rolling stock order announced on January 10 is the first won by CSR Puzhen under a 10-year low-floor tram technology licensing agreement for the Chinese market which was signed with Bombardier Transportation in July 2012.
The five-section bidirectional 100% low-floor cars based on Bombardier's Flexity 2 technology will be 32 m long and 2 650 mm wide. CSR Puzhen will manufacture the vehicles at its Nanjing plant.
Suzhou New District Tram Co will operate the trams on the 18 km, seven stop line T1 linking the centre of the industrial zone with the West Lakeside Area. A groundbreaking ceremony for the line was held on September 11 2012, and completion is scheduled for 2014. T1 is the first of six lines planned as the backbone of public transport within the industrial development zone.
'Low-floor trams have strong potential in China, with more than 10 Chinese cities currently working on projects for modern 100% low-floor vehicles', said Jianwei Zhang, President of Bombardier China.