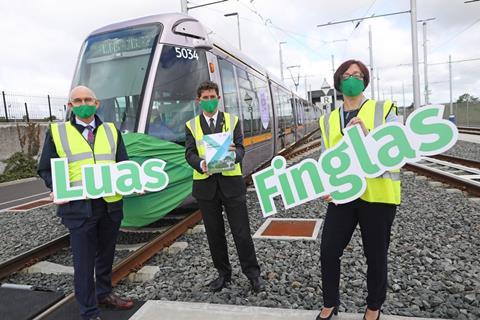 IRELAND: Public consultation has begun on the Luas Finglas proposal to extend Dublin's Green light rail line by 3·9 km from the current terminus at Broombridge. This would add four stops at St Helena's, Finglas Village, Mellowes Park and a 600-space park-and-ride site beside the junction of the M50 and N2 at Charlestown.
The National Transport Authority and Transport Infrastructure Ireland have invited comments on the preferred route for Luas Finglas, which would mostly use grassed track and would include a cycle and pedestrian path alongside much of the alignment.
'The extension of the Luas to Finglas is a clear example of the kind of progress we are making in planning to invest in ambitious and exciting sustainable transport', said Anne Graham, CEO of the National Transport Authority. 'I believe that Luas has the potential to be transformative for this part of the city and that it will further enhance the area for people who live here, work here, or want to run a business here.'
Meanwhile, the first of eight new 55 m long Alstom Citadis trams has entered passenger service, with all expected to be in operation by early 2021. 'Dublin was one of the first cities in the world to adopt Citadis trams and now passengers rely on them in over 50 cities worldwide', said Nick Crossfield, Managing Director of Alstom in Ireland and the UK, on July 28. 'With this brand new 55 m tram, the longest we have ever built, Dublin is leading the world again.'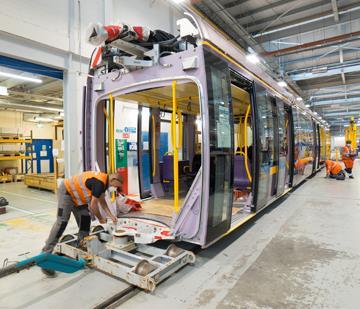 Work to extend 26 of the existing 44 m trams to 55 m is also well underway, with 13 of the extended trams now in passenger service. The 55 m trams can carry around 100 more passengers than the shorter version.
The Luas fleet will reach a total of 81 trams by early 2021, with 41 being 55 m long, increasing capacity on the busiest sections of the network by nearly 30%.