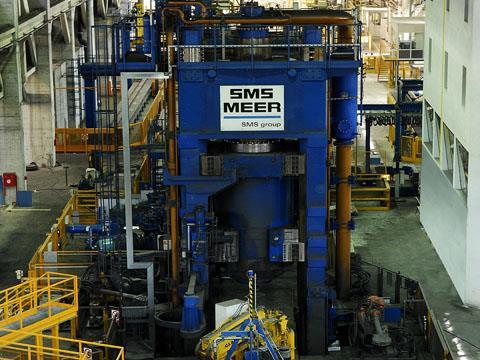 ITALY: Lucchini RS officially inaugurated a €90m wheel production line at its Lovere site in northern Italy with a ceremony on May 1.
The rolling mill puts the company at the forefront of wheel manufacturing technology, as part of its strategy to dominate the niche market for high technology locomotive and high speed trainset wheels. 'This is not typical steel making', said General Manager Augusto Mensi.
The highly-automated production plant was supplied by German firm SMS Meer to Lucchini's specifications, which included the ability to rapidly reconfigure the line for the production of more than 200 types of wheel.
Such specialist equipment needs substantial investment, which in turn requires high production volumes. The plant will significantly increase Lucchini's capacity from 140 000 to 240 000 wheels a year, with the Lovere site undertaking all the 'hot' processes in wheel production.
Lucchini RS General Manager Augusto Mensi spoke exclusively to Railway Gazette International. Read more about Lucchini's focus on high technology in the June 2010 issue.