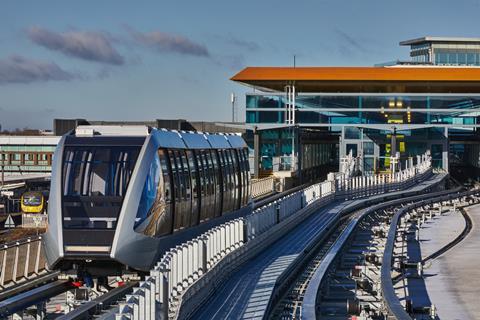 UK: Full services on the Direct Air-Rail Transit automated cable-hauled peoplemover linking Luton Airport Parkway railway station with the airport terminal began running on March 27, following a soft launch with a limited timetable on March 10.
Airport owner Luton Borough Council approved the 2·08 km peoplemover in 2017. It is intended to provide a step-free and fully covered transfer between the station and airport to replace the former shuttle bus service, taking less than half the time thanks to an absence of traffic delays and offering more than twice the frequency.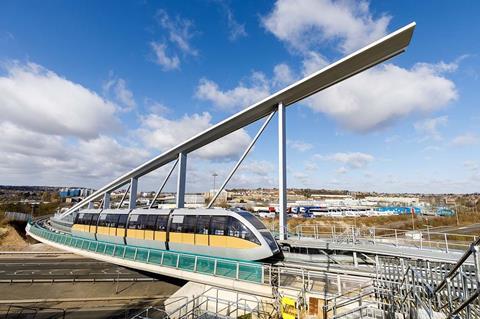 Construction began in April 2018. The civil works undertaken by a joint venture of VolkerFitzpatrick and Kier included the installation of a 80 m long, 1 000 tonne bridge to carry the line over a road.
The peoplemover system including two Cable Liner trainsets with a capacity of 170 passengers has been supplied by Doppelmayr Cable Car UK Ltd. The firm is a subsidiary of Austrian cable car and funicular specialist Doppelmayr Seilbahnen, which previously provided a similar system at Birmingham airport.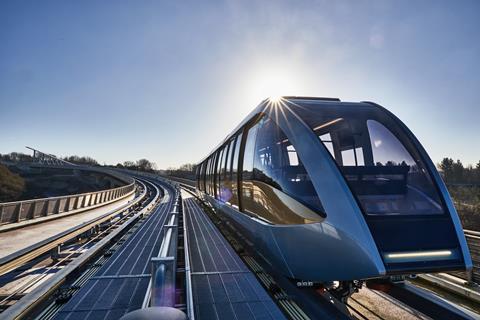 Doppelmayr will operate DART for five years, with an option for another five years.
Design capacity of the DART link is 2 720 passengers/direction/h. Services run every 4 min at peak times, every 8 min off-peak, and every 8 to 15 min at quiet times. The maximum speed is 50 km/h, giving a journey time of just over 3 min. Including boarding and alighting dwell times, the peak cycle time is 3 min 45 sec.
A single ticket costs £4·90. Through rail tickets are available, and bus concessionary pass holders including pensioners and people with a disability and their companion can travel free. Luton residents can apply for half-price travel.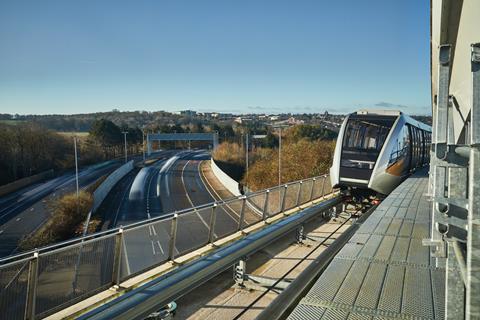 'Luton DART is one of the biggest infrastructure projects ever undertaken in Luton and promises to put our town and our airport firmly on the map for all the right reasons', said council leader Hazel Simmons.
'Electrically-powered, energy-efficient and future-proofed to support sustainable growth of the airport, it is a vital sign of our commitment to encourage more passengers to take the train rather than individual car journeys to and from our airport.'