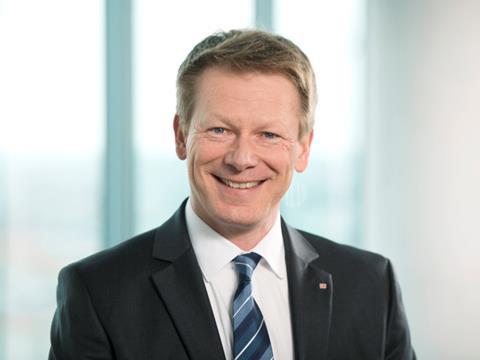 GERMANY: Meeting on March 22, the Deutsche Bahn AG Supervisory Board confirmed the appointment of Dr Richard Lutz as CEO of the national railway, succeeding Dr Rüdiger Grube who stepped down as Chairman of the Management Board in January.
Having served as Chief Financial Officer since 2010, Lutz had been acting as interim CEO since Grube's departure, and his nomination for the role had been endorsed a few days earlier by Federal Minister for Transport & Digital Infrastructure Alexander Dobrindt. His appointment will run for five years until March 2022.
The Supervisory Board also confirmed a number of other changes to the makeup of the DB Management Board. Existing board members Ronald Pofalla and Berthold Huber have been given new five-year contracts. Pofalla retains his role as Board Member for Infrastructure, while Huber becomes Board Member for Passenger, including DB Arriva, having previously been responsible for Operations. Ulrich Woerder continues as Board Member for Personnel & Legal Affairs.
Lutz will retain his responsibility for Finance & Accounting which is to be combined with his new role as CEO. This will free up room on the management board for the appointment of two new members to cover the remits of Freight & Logistics and Digital & Technology. These appointments are expected to be announced shortly, but in the meantime Huber will continue to oversee the freight portfolio and Lutz will oversee the technology sector previously headed by Grube.
'Nobody knows Deutsche Bahn as well as Dr Lutz', said Supervisory Board Chairman Prof Utz-Hellmuth Felcht. 'His competence and experience will provide the necessary continuity that the company needs in the midst of rapid change'. The new contracts for Huber and Pofalla would ensure that the management board could continue to act as a team to 'consistently and successfully implement the Zukunft Bahn programme' to improve quality and attract more customers.