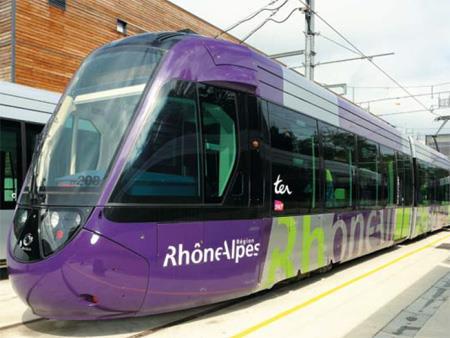 FRANCE: SNCF began operating tram-train services from Lyon Saint-Paul to Sain-Bel on September 24, following an official opening ceremony two days before.
On weekdays there is now a service every 30 min, increasing to every 15 min between Lyon and L'Arbresle during the peaks. It is hoped that ridership will double from present levels to 13 200 passengers a day by the end of 2012.
It is the first of three routes from Lyon Saint-Paul serving the city's western suburbs that are to be converted to tram-train operation. Subject to obtaining the necessary safety approvals, Alstom Citadis Dualis vehicles are expected to begin operating to Brignais in December, using a new east to south chord at Tassin, followed by the route to Lozanne.
Total cost of the infrastructure work required for the west Lyon tram-train programme is estimated at €150·2m, of which €91·4m is being provided by the Rhône-Alpes region, €16·5m by the French government and €15·9m by infrastructure authority RFF. The Greater Lyon authority has contributed €13·1m, the Rhône département €12·5m and SNCF €800 000.
Infrastructure work has comprised doubling some sections of single line, lengthening passing loops, track renewals, electrification and resignalling. Platforms have been rebuilt to provide level boarding, while a €35m station modernisation programme has included the installation of a real-time passenger information system and improved facilities for cyclists. A new station has been built at Lentilly-Charpenay, and Dommartin-Lissieu relocated; both now provide park and ride facilities.
Within a €650m framework agreement between SNCF and Alstom for up to 200 vehicles, a fleet of 24 Citadis Dualis tram-trains has been acquired for €100m, entirely funded by the Rhône-Alpes region. The 42 m long vehicles have 100 seats and can accommodate 150 standing passengers, with a maximum speed of 100 km/h.
Maintenance is undertaken at a new facility built on a 1·5 ha site near L'Arbresle station, funded by the Rhône-Alpes region (€11·48m) and SNCF (€3·82m).