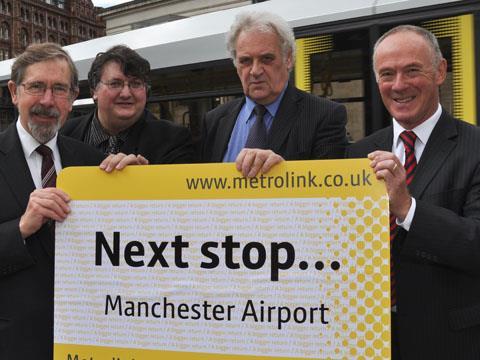 UK: Confirmation that Phase 3b of the Manchester Metrolink light rail expansion programme is fully funded came on July 30 when the Association of Greater Manchester Authorities met to agree a £500m contribution from the Greater Manchester Transport Fund. The £1·5bn fund was created in May 2009 by AGMA and Greater Manchester Integrated Transport Authority.

'The major transport schemes covered by the Greater Manchester Transport Fund have been prioritised based on their value to the regional economy', said Lord Peter Smith, Chair of the AGMA Executive. 'These new Metrolink lines in particular will also be the catalyst for regeneration in several areas'.

Phase 3b includes three extension projects. A 14·5 km route to Manchester Airport is budgeted at £398m and will open in mid-2016. Manchester Airports Group is making a resource contribution with a nominal value of £50m. A 2·4 km route through Oldham town centre is expected to cost £89m, while the 1·1 km extension from Rochdale station to the town centre is budgeted at £35·5m. Both are due to open in spring 2014.

GMPTE Chief Executive David Leather announced on August 4 that contracts to design, build and maintain the extensions had been signed with the MPact-Thales consortium of Laing O'Rourke, VolkerRail and Thales UK. GMPTE has also exercised an option for 14 trams costing £27m as part of a contract for up to 97 vehicles signed with Bombardier Transportation in April 2007. Deliveries are due to start in October 2011.