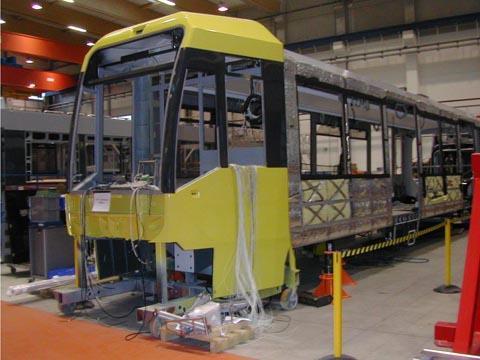 UK: The bodyshell of the first of 40 additional high-floor light rail vehicles on order for Manchester Metrolink has been completed at Bombardier's Wien plant, and interior fittings and Vossloh Kiepe electrics are now being installed.
The 28·4 m Flexity Swift cars for Manchester are based on the Köln K5000 design. The first will be delivered to Manchester following tests in Wien during the spring, after which there will be three months of further testing and driver training before it enters service this autumn. The rest of the fleet will enter service at a rate of one a month.
Greater Manchester Passenger Transport Executive is overseeing a major expansion of Metrolink, with 30 km of new and converted rail lines serving Oldham and Rochdale, Droylsden, Chorlton and the MediaCity:UK development due to open in 2010-12.
'The new Metrolink lines we're building will nearly double the size of the network so we need extra trams to operate on them', said Philip Purdy, Metrolink Director at GMPTE. 'We'll also run some of the new trams on the existing lines to provide more seats for passengers.'