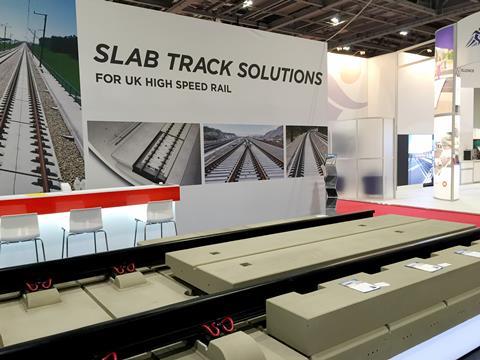 UK: German slab track specialist Max Bögl marked its entry into the UK market at the Infrarail trade show in London on April 13 by launching a joint venture with construction material supplier Tarmac which is aimed at winning contracts for track systems on new line projects.

The partnership intends to develop ballastless trackforms for high speed applications, although they are not solely targeting contracts for the first phase of the planned High Speed 2 network, for which civil works tendering is already underway.

'We have more than 80 years' experience in pre-fabrication of concrete structures, and we have installed more than 10 000 km of our slab track design on railways around the world', Max Bögl's Board Member for Infrastructure Jürgen Kotzbauer told Railway Gazette International. Under the terms of the joint venture, Max Bögl would be responsible for track component-related elements, while Tarmac would bring its expertise in concrete product supply, modular construction and on-site logistics.

'We are confident that our international experience shows that we can have a slab trackform that requires little or no maintenance for around 20 years', Kotzbauer added. 'There is no guarantee that we will win any HS2 contracts; we are starting by talking to the relevant specialists and going from there.'

The partnership was established around six months ago when Tarmac approached Max Bögl having analysed 'what HS2 means to us as a company', explained Steve Swain, Senior Manager for Major Projects at Tarmac. 'We will produce the slabs and provide our logistics expertise, but we will build to the technical standards specified by Max Bögl.'

Swain added that selection of a ballastless trackform could have implications for the contracting process for the HS2 civil works, especially around the design of structures, and he urged project developer HS2 Ltd to consider 'the railway as a system' in the tendering of both civil works and railway equipment.