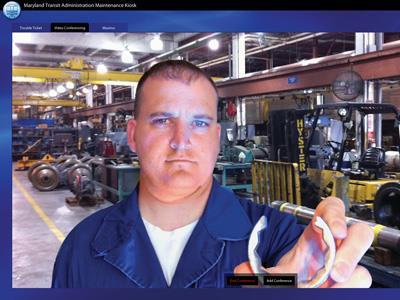 USA: Baltimore Metro train maintenance staff are using interactive kiosks as an efficient way of accessing previously under-utilised documentation and software and to improve internal communications.
Developed by ScreenPlay Interactive and hardware supplier Inelect at the suggestion of Jason Lurz, Director, Metro Operations, at Maryland Transit Administration, the kiosks have a 46 in touch-screen interface with 'the feel of an iPad'. This is housed in a strong aluminium kiosk, alongside a high-resolution camera, microphone, speakers, RFID reader and removable thermal printer.
Log-in is by facial recognition or contactless card, enabling staff to access applications including Maximo, ProjectWise and custom-designed fault tracking software running on MTA's existing Microsoft Windows XP systems. Staff can use the kiosks' high-resolution cameras for video conferencing and to share screen views.