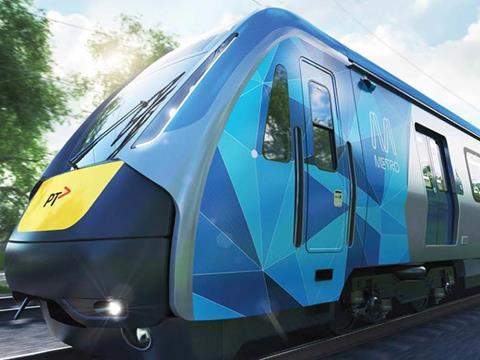 AUSTRALIA: Infrastructure investor Plenary Group announced on November 22 that it had reached contractual close on the Victorian government's A$2bn High Capacity Metro Trains project.
The PPP contract will see the Evolution Rail consortium of investor Plenary, design and technology lead CRRC Changchun Railway Vehicles and delivery and maintenance lead Downer Group supply 65 electric multiple-units for use on the Melbourne suburban network from mid-2019, and maintain them for 30 years at depots to be built in Pakenham East and Calder Park. The first trainsets are expected to enter service in mid-2019.
Evolution Rail had been named preferred bidder for the contract on September 12, beating rival offers from Bombardier (Bombardier Transportation Australia, Macquarie Bank, Itochu and Infrared Capital Partners) and Eureka Rail (Alstom, Bank of Tokyo-Mitsubishi UFJ and John Laing).
'Evolution Rail had moved swiftly from preferred to contractual close over the past few weeks, and will now move to financial close with its partners', said Plenary Group CEO Paul Oppenheim. 'The efficiency with which contract close has been achieved reflects Evolution Rail's comprehensive bid which in turn attracted strong support from our debt and equity financiers who have worked alongside the consortium partners at every step. There has been clear collaboration between the public and private sectors with a mutual determination to ensure the project commences on-time and remains on track'.
Evolution Rail's debt participants will include Westpac, Bank of China, Bank of Communications, HSBC, ICBC, Intesa Sanpaolo, Mizuho Bank and UOB. Equity financing will come from Plenary (30·1%), Downer (10%), CRRC (10%) and funds managed by Partners Group (49·9%).
The 1 600 mm gauge EMUs based on CRRC's Type A design are to be built at Downer's Newport facility in west Melbourne, and Oppenheim said CRRC's partnership with Downer would 'achieve more than 60% local content'.