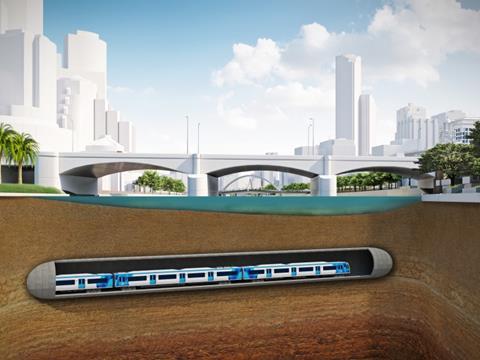 AUSTRALIA: The Victoria government announced on August 11 that three consortia had been shortlisted for the civil works and fit-out of the Melbourne Metro Rail tunnel:
Continuum Victoria: Acciona Infrastructure, Ferrovial Agroman, Honeywell, Downer EDI and Plenary Origination;
Cross Yarra Partnership: Lendlease Engineering, John Holland, Bouygues Construction and Capella Capital;
Moving Melbourne Together: Pacific Partnerships, CPB Contractors, Ghella, Salini Impregilo, Serco and Macquarie Capital.
The shortlisted bidders are due to submit formal proposals by early 2017, with the A$6bn PPP contract expected to be awarded by the end of that year.
Work is scheduled to begin in 2018 on the 9 km city centre tunnel with five underground stations that would connect the Sunbury line to the Cranbourne and Pakenham lines. Up to six tunnel boring machines are to be used.
John Holland was selected in June for the A$324m early works package, which includes the excavation of shafts up to 35 m deep at Franklin Street, A'Beckett Street and City Square.
The Victoria government announced in April that the A$10·9bn Melbourne Metro Rail project is now fully funded. The tunnel is due to be completed by 2026, and forms part of a larger package to increase capacity on the city's 1 600 mm gauge suburban network. A contract for the supply and maintenance of 65 seven-car electric multiple-units is due to be awarded this year.
Meanwhile, expressions of interest closed in June for a contract worth up to A$1bn to supply signalling, communications and other railway systems for the Melbourne Metro Rail tunnel. The 'high-capacity' signalling would be installed on the Sunbury and Cranbourne/Pakenham lines, after being tested on a section of the South Morang line using X'Trapolis EMUs. Each of the five underground stations is being built with platform screen doors.
A detailed feature about the Melbourne Metro Rail project appears in the December 2015 issue of Metro Report International, available to subscribers in our digital archive.